Write and Publish Guest Post on Business and Finance niche blog
If you are in search of quality Guest Post, You are on right place. Get The Best Offer Of Guest Post On BUSINESS and FINANCE Niche Blog


Very Strong DA30+ PA30+ Business/finance Niche Blog! 
I will personally create a backlink from a high authority "Business & Finance" niche blog site. This powerful link alone can make a lot of difference if your on-page SEO is done right.
Suitable for:
Business

Finance

Marketing, Relationship Management, Business Management

Trading and Forex, Bitcoin



I am offering a splendid deal in which I will post your Guest post on Business/Finance blog. All the site owners want to get plenty of quality links to their website and if you also want to your website with high quality PR and a natural look then this Service is especially suitable for you.
What You will get:
This service is about Write and Guest Post on Business/Finance blog  where Business related topics allow. You will get Do-Follow backlink.​

In Basic Service:

Create content with 500 words hq Article (if You want you can provide article)
I will make anchor text of your Keywords in the post
link are DO FOLLOW 
Add relevant images to content
Publish it on Business Niche Blog. Inner page Post and Dofollow Link.
What You need to provide:

Title or Topic
1 Website URL
1 Keyword
1 Relevant Image
Note: If you need guest post on any other niche you can contact us.
Check Service Extras for Exclusive Bundle Deals.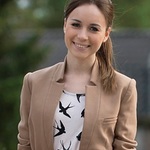 ---
1 day
AverageResponse Time
---
---
Advantage of HelloBar :) Hi, Work on internet marketing last 10 years. 100% Satisfaction Guaranteed. Order delivery on time.
Other services by Hellobar