Embed Video or Google Map on 311 Social, 125 Web 2.0 Syndwire + PBN EMBED
SEO
/
Youtube SEO
3 days estimated (5 days guaranteed) >
2 days on average


by: HonorableSEO.com




I WILL NO LONGER GIVE REFUNDS TO PEOPLE
WHO EXPECT A LINK LIST TO THIS NETWORK!
1 VIDEO PER ORDER

Works for: Google Map Embeds, YouTube, Vimeo, Daily Motion, Slideshare, Soundcloud, Picture Embeds.

PACKAGES - Web 2.0, Twitter, Social bookmark Embeds
OMG and SOURCE U APPROVED TECHNIQUES ONLY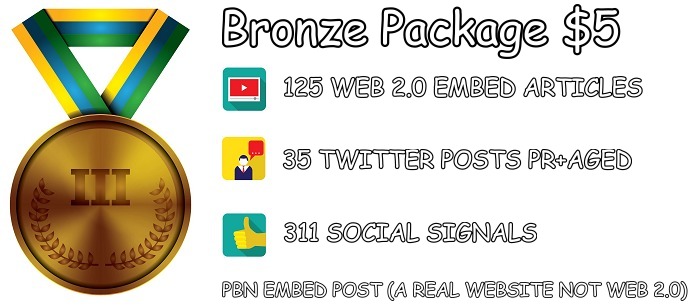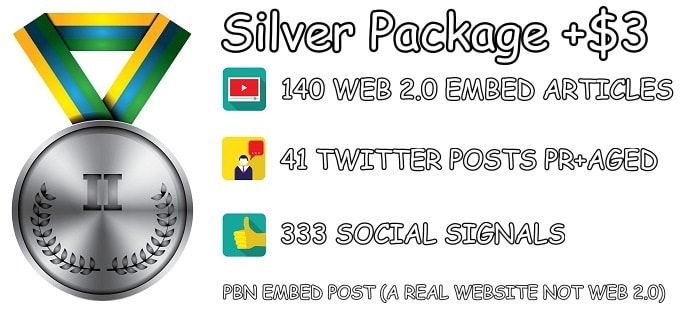 YOUTUBE RANKING STEPS:

Step 1
Get REAL Traffic (unavailable):
Things change in SEO all the time. It's now extremely recommended if you're using a new video to end a bit of traffic to it first. But you need REAL traffic and you only need a little bit. We now offer this in the extras see below for more information. (See
Search My Brand
below for more information on how to use it and what it does)
Step 2
Use This Service:
I'll be here to get you OMG/Source U approved embed links! See our packages above for more information.
Step 3
Stable Dripfed Social Signals (Socialize Kaboom):
Slow and steady wins the race with SEO. Avoid huge blasts of fake social signals all at once and get realistic volumes of steady dripfed social signals to your video. Available in Extras - SK is good for any type of URL.
YOU CAN ORDER SOCIALIZE KABOOM AS A STAND ALONE ORDER FOR YOUR PAGES AND POSTS BELOW (Monthly Also Available):One Shot Order of Socialize Kaboom

Step 4: PBNS!!!
Not much has changed, PBNs are very important still. I'll be sharing some PBN resources for those looking for PBN services that have higher chances of succeeding when used.
-----------------------------------------

Be the first to know when I have flash sales, new services and chances
to win free service gigs just by being apart of my FB page.

PLEASE NOTE: PROOF OF SUBMISSION IS THROUGH SCREEN SHOT.


Info on other Extras:
SOCIAL MONKEE MARKET:

Social Monkee - Social Market will blast your video with 250-400 REAL user social shares from web2.0s to social bookmarks and signals. I use this with all my video uploads. Submission proof is by screen shot.

Socialize Kaboom:

Your video will AUTOMATICALLY get Tweeted, Pinned, posted on Delicious. No Footprint! Because the network is HUGE. You can choose to drip feed for 3 or 15 days (4 to 15 signals each day!) This is EXTREMELY RECOMMENDED for serious rankings, and is used by the top SEOs on a daily basis! This service uses a RSS feed to push your video through the network.

--
About Socialize Kaboom: I will take a screen shot of submission. This service uses a RSS feed to push your video through the system.
Search My Brand (REAL TRAFFIC): 
Search My Brand is through Crowdsearch.me, it's highly advisable if you're using a new video to get the Search My Brand extra. It will send 100 REAL visitors to your YouTube video (or any page) for 3 days. From there your order of Video Embed Ranker (this service) will then be scheduled to start submitting embeds, social shares and tweets. It looks more natural this way and you'll avoid possibly getting a penalty. For those that have aged videos with views already it's still recommended to use this extra before doing an embed blast, but you'll be much more safe then a new video will when using this service. (I lowered the price as much as possible to make it available - real views cost more but they will be of much more quality and you'll always be safe using Search My Brand!)
Details: 100 views from real visitors for 2 minutes (randomized time around 2 minutes)
Need more visitors or time (or a specific area?) - I'll have another service page for that soon.

MY FAVORITE POSITIVE REVIEWS:
If your keyword is not high comp this service will push your vid into first position. I have placed 10+ orders already and i was always satisfied. What i bought : Basic gig +boost up extra + Social monkey 10$ +7 signals/ day socialize kaboom 15$ The final price is 33$ and it worth every penny. Thanks Honorable SEO for the great service.
HonorableSEO,
I ordered this gig for one of my videos, and was shocked by the results. I wanted to write you so I could tell you, and thank you. Literally a DAY after you delivered the gig, my video shot from #5 to #2 for my main KW, and my website (linked to in the video description) jumped from #6 to #3 for an easy/medium local KW. However, that being said, both the video and the site had been stuck in their respective positions for over 2 months. I know that this jump may not be typical, and I'm not expecting something like it every time obviously, but jeez dude, I was definitely surprised when I checked my rankings, and thought you should know. I just placed more orders with you for the other videos I made for the client. I am EXTREMELY impressed. I have placed a LOT of orders on SM with a LOT of different sellers, and you are now in my Top 3, BEST PERFORMERS in terms of results achieved! Just wanted to let you know, and say thanks! Looking forward to doing more business with you!
- J
Just got my client onto page 1 for a 590 search volume keyword in YouTube right after getting notified that this service was completed! Guess who just got added to my favorites list?? ;)
Honorable SEO is the real deal. Does what he says, asks questions to clarify what you're trying to do, and GETS IT DONE RIGHT and right on time. Fantastic price too!
*social explosion
*we have enough properties that we can randomize many of the profiles on our network to keep things looking natural
---
16 hours
AverageResponse Time
---
---
Been actively ranking 'regular' and 'adult' pages for 5 years. My specialty is adult SEO and YouTube SEO and have created several adult social networks to blast sites through to increase their social presence! I own http://honorableSEO.com in Denver, Colorado